Profile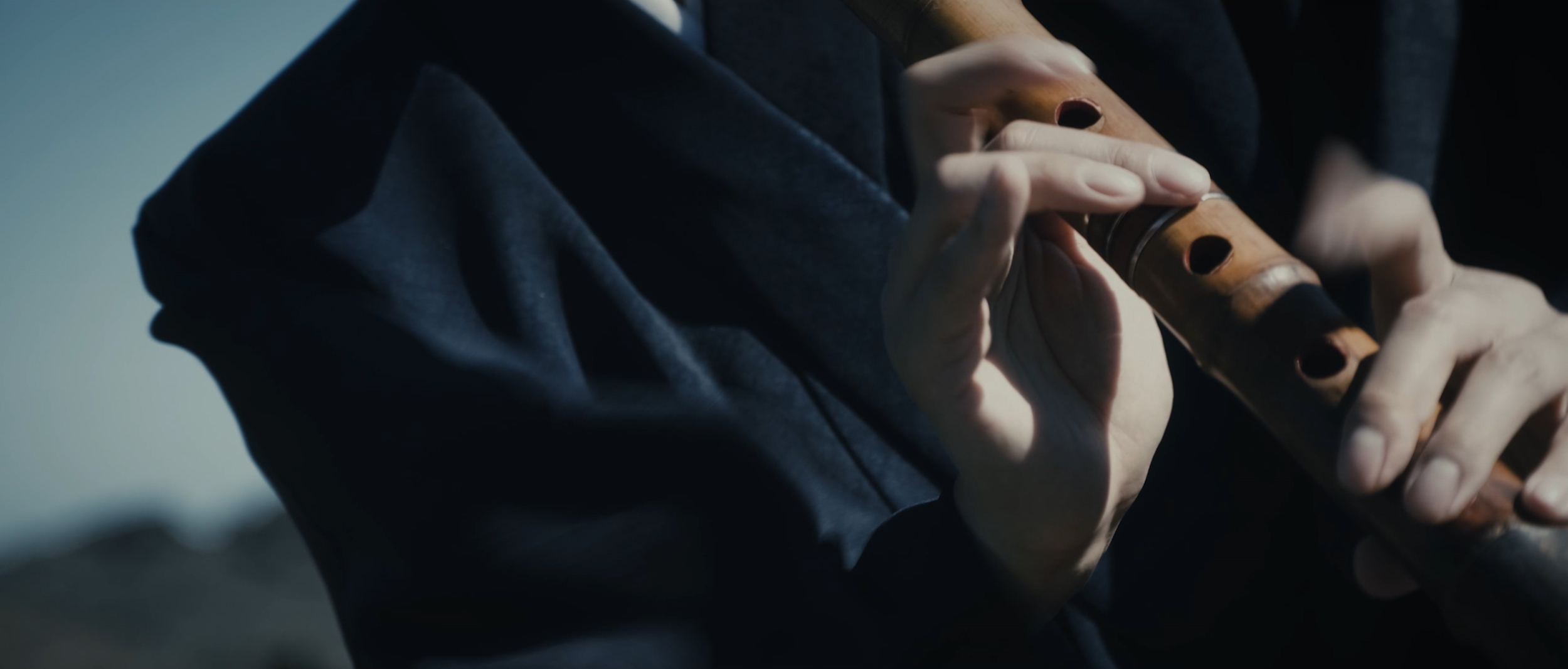 Japanese

Masaki Nakamura

Shakuhachi player and songwriter
Born in Uwajima City, Ehime Prefecture. Uwajima ambassador.
Member of Shakuhachi Sound -JIN-/HANABI/ Sakura men/Zangetsu/REN-.


At the age of 17, he first encountered the shakuhachi and was so fascinated by its charms that he went on to study shakuhachi at the Department of Traditional Japanese Music, Faculty of Music, Tokyo University of the Arts.
He won the first prize at the 6th Shakuhachi Newcomer's Championship, the 3rd Tokyo Traditional Music Competition, and the 2nd Japanese and Western Instrument Group Contest.
Received the Yomiuri Shimbun Award, the Japan Min'yo Association Award, and the Uwajima Grand Prize. Awarded the Nagatani kengyo Memorial Kumamoto National Traditional Japanese Music Contest Excellence Prize. Choko Cup Excellence Prize.
Awarded the 14th Best Debutante of the Year.

His style of shakuhachi music, which makes use of the original sound of the shakuhachi and moves freely between various genres, has attracted many fans.
His original compositions, in which he projects nature and his own inner world, are highly acclaimed.
He has released 10 albums and participated in more than 30 albums. He has been invited to perform at Suntory Hall, Ryogoku Kokugikan, the U.S. Embassy, the French Embassy, and the Irish Embassy.
Collaborated with Fujiwara Dozan, Hiromitsu Agatsuma, Ikuko Kawai, Ichiro Toba, Fuyumi Sakamoto, Chieko Mizutani, Aiso Shimada, Shisyu, Lime Green Orchestra, Rubipa de Orchestra, and others.
Lecturer at Zojoji Temple's Buddhist Adult University. Fashion model for Shinobu.

Released her first solo album "Prayer" in 2016, which was broadcast on NHK and other media. In 2017, He made her major debut as Tsubasa Sakiyama with Sakura Men with "Tsukihana Yoru" from avex.
In May 2020 avex released Sakuramen's first album "Hana no Daihenbu Kai".

Website 
https://www.masaki-nakamura.com/
Twitter
https://twitter.com/masaking1983
Instagram
https://www.instagram.com/masakingngn/
YouTube channel
https://www.youtube.com/channel/UCPF-g-LTQM8bpM38VmWMApw
Facebook
https://www.facebook.com/1983masaki
twicas
https://twitcasting.tv/masaking1983
blog 
https://ameblo.jp/masaki-nakamura-shaku8/
Main Performances
[Concerts]

Over 100 performances at shrines and temples including Zojoji, Tofukuji, Daikakuji, Kamigamo Shrine, Kasuga Taisha Shrine, Nijo Castle, Hikone Castle, etc.
Junko Koshino Fashion Show
Participated in SQUARE ENIX "Sengoku IXA" theme song
Tokyo Jazz Festival 2016
Tokyo Jazz Festival 2017
Lecturer at Zojoji Buddhist Adult University
Uwajima Date 400th Anniversary Grand Finale
Musikfest Nara
Stage "The Factory
MOSHI MOSHI NIPPON FESTIVAL 2015 in TOKYO
Okayama International Music Festival 2016
Himegin Hall Ehime Prefecture Citizens' Cultural Festival
THE FACTORY Shitennoji Temple dedication Live
Toyota Lobby Concert
Jah Pang Hwan Erhu Concert
Shibuya Countdown Party
etc...
[Overseas Performances]
Performances in Turkey for "Japan Year in Turkey" organized by the Japan Foundation
Performances in Malawi, Kenya, and Africa at the invitation of the Ministry of Foreign Affairs of Japan.
Performance in China for "Winds of Japan".
Performance in Mongolia at TOYOTA Naadam 2014.
Tour in Korea with HeavyRock band "HeavensDust". Tour in the U.S.A.
HANABI project Japan Festival 2016 in Holland.
etc...
[TV & Radio Appearances]
NHK Hello Itto 6ken Life "Watashi" Style
NHK Good Morning Japan
NHK Frontier of Japanese Musical Instruments
TBS New type of study "Hamaru! Tsubo Gaku
TBS Tofukuji Ondebutai
MBS Daikakuji Ondebutai
TV Asahi Kanjani no sorting infinity
Fuji Television "Ikeeteru Otoko to Busaiku" (The good looking guy and the ugly guy)
Fuji Television Ikeeteru Otoko to Kaitaku Onna
Fuji TV ONE/TWO/NEXT Kyumen Minute
TV Tokyo Thursday 8:00 Concert
Tokyo MXTV THE FACTORY TOKYO TV
Tokyo MXTV Elegant Time Concert
Tokyo MXTV Welcome to Sakura Country
DHC Extreme Beauty
NHK-FM Hogaku no Hitoki
NHK-FM Hogaku Jockey
FM Ehime Open Recording Live
FM NACK5 monaka
Nippon Broadcasting System, Reo Tsuchiya, Leo Narudo
JFN 13 stations network DAY BY DAY - Talk to You
NHK Radio 1, Radio Midnight News, The Sound of Japan
Column "Signposts" in Ehime Shimbun
Please see below for the column "Signposts," which appeared in Ehime Shimbun a total of 10 times from February to November 2021.

2021.02 The Magic of the Spring Sea
2021.03 Currents of Cherry Blossoms x Synesthesia
2021.04 Sound of "sawari"
2021.05 waka-composing mood"utagokoro"
2021.06 Onomatopoeia of emotion
2021.07 Full Concentration Breathing
2021.08 Festival music for "Hare no Hi
2021.09 Harmonia Museum of Art
2021.10 Exotic Marriage
2021.11 Sound that conveys, sound that is transmitted